The IT department plays a critical role in technologically supporting the design and implementation of new business products and services, especially those with a strong digital component.
With the rapid, often exponential, evolution of the technological ecosystem, it has become even more essential for companies to deliver their projects on time in order to be able to meet market demands (trends) with offerings integrating and exploiting the full potential of new technologies.
In order to meet these challenges, many IT departments are opting to set up a specialized PMO unit. Why?
1. Common standards and methods (via a framework)
The set up of a PMO unit makes it possible to implement common tools, standards and methods relating to project management so that everyone speaks the same language and uses the same formats, document templates, KPIs/measures (e.g., costs, workload) and project methodologies. In addition to facilitating overall consolidation of project and performance reporting, this also makes it possible to standardize practices across projects and therefore have a considerable impact on performance.
2. Full visibility and control over all IT Department projects
Creating a comprehensive project portfolio is a major challenge that enables an IT department to have an exhaustive, prioritized and fully-coordinated view of all IT projects (on-going and new projects).
This control over the Project Portfolio makes it possible to organize and present a clear and concise picture, both strategic and operational, to general management, to the various Business Units and to the operational staff and to align all involved with the vision of how IT can best meet business priorities. It is thus a key component in building constructive dialogue and privileged communication with all the stakeholders.
3. Clear, transparent decision-making processes and governance
Managing a project portfolio (within an IT department) requires the involvement of people from the businesses (operating staff, managers, directors) and support functions (e.g., Finance for budget validation, HR for hiring of new employees, …) . It is essential to clearly define (and share) the decision-making processes and governance methodology, in order to (re) align all stakeholders and to carry out projects transparently and in accordance with the strategic priorities of the company.
4. Facilitation of decision-making using consolidated reporting
Managing a project or program portfolio is a critical issue. The implementation of KPIs (cost, quality, time, etc.) at all relevant levels (project, program, portfolio) and the monitoring of risks are critical in enabling real-time visibility on project viability and progress. Responsiveness is improved and decision-making is facilitated (changes in priorities, allocation of additional resources, stopping/slowing of the project, etc.), all of which are real assets in constantly changing business and technological environments.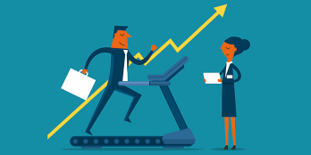 PMO plays a key role, at the heart of the company's decision-making process, with a key underlying theme :
"structure pragmatically to help drive performance and the achievement of objectives".
About Nexance :
Nexance teams support you in setting up a PMO unit tailored to your needs and your corporate culture.
---
Version française: Pourquoi mettre en place une pmo dans une direction IT